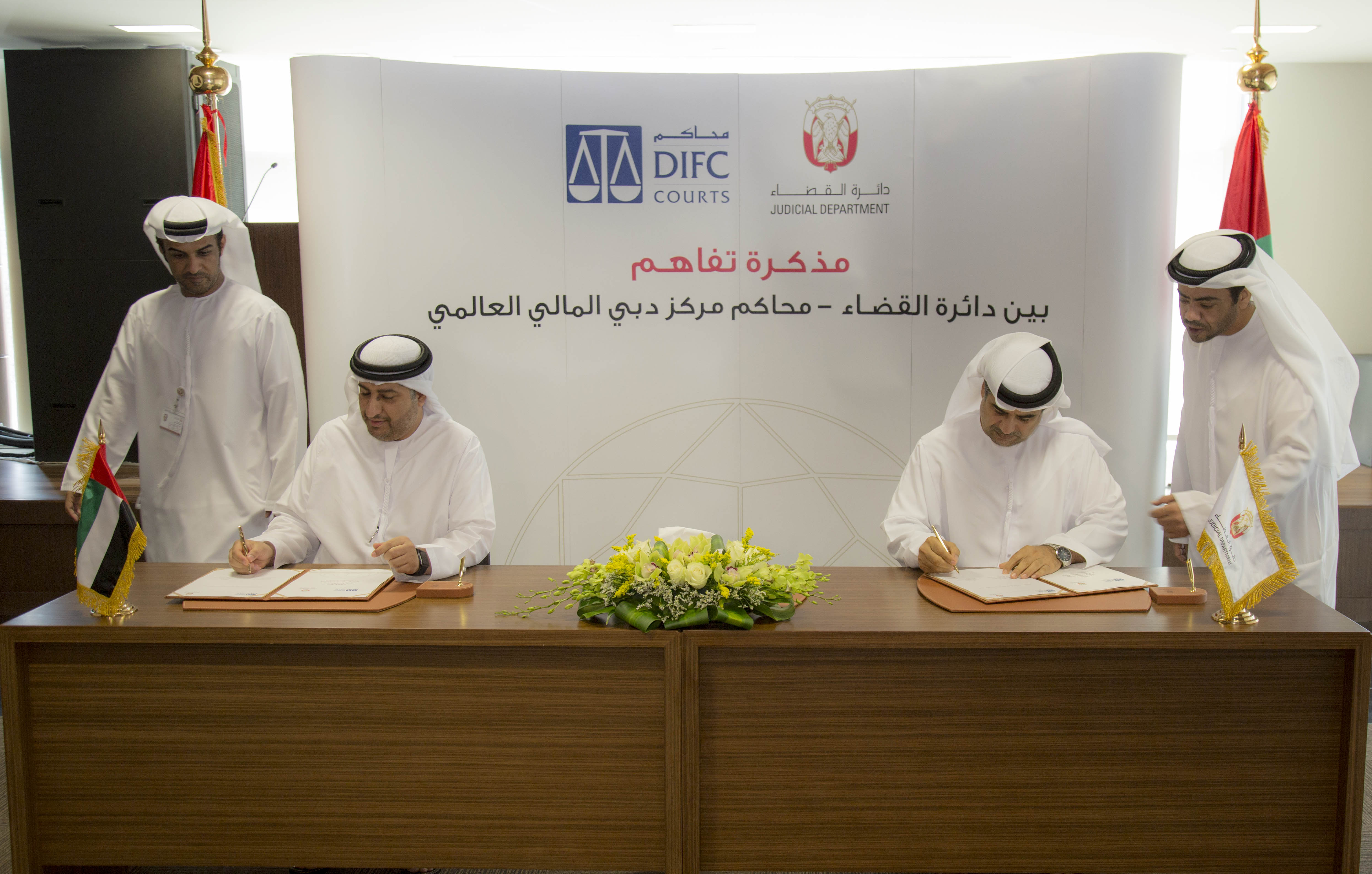 (L-R) HE Omar Juma Al Muhairi, Senior Judge DIFC Courts and HE Chancellor Yousuf Alabri Abu Dhabi Judicial Department Undersecretary sign the MOU agreement
Abu Dhabi Judicial Department and DIFC Courts formalise partnership for legal excellence
Close collaboration underpinned by first-ever cooperation agreement covering joint research, training and best practice
Abu Dhabi, UAE; 30 April 2017: Two of the UAE's key judicial entities, the Abu Dhabi Judicial Department (ADJD) and the DIFC Courts, have signed a Memorandum of Understanding (MoU) pledging a stronger alliance to achieve their shared goal of delivering legal excellence.
ADJD and DIFC Courts have a long-standing relationship based on knowledge sharing and the exchange of expertise. These ties have now been formalised for the first time in a major cooperation agreement targeting research and training, with an overall aim of enhancing judicial efficiency.
Michael Hwang SC, Chief Justice, DIFC Courts, said: "This memorandum marks the beginning of a formal strategic alliance between the ADJD and the DIFC Courts. Our two organisations share a commitment to delivering legal excellence and advancing the country's judicial framework in line with UAE Vision 2021. We look forward to working together to share best practices in key areas, such as digital justice."
The field of e-services and information technology is among several specific collaborative areas identified, with the two organisations aiming to share best practice on digital case management and improving access to information on courtroom proceedings. They will also exchange opinions on topics such as applicable fees for commercial cases, as well as how to best educate the public on legal and judicial concepts.
His Excellency Chancellor Yousuf Alabri, Abu Dhabi Judicial Department Undersecretary, said: "This MoU explores many points that will help enhance the performance of the two parties and boost the level of knowledge exchange through the qualification, development and exchange of expertise for human resources, in addition to exchanging expertise in the judicial, academic and legal research fields. It will also allow exchange of legal and institutional publications."
The partnership will be driven forward by joint committee that will meet on a quarterly basis to assess achievements and identify new areas for collaboration.
DIFC Courts and Abu Dhabi Judicial Department Memorandum of Understanding – English
DIFC Courts and Abu Dhabi Judicial Department Memorandum of Understanding – Arabic